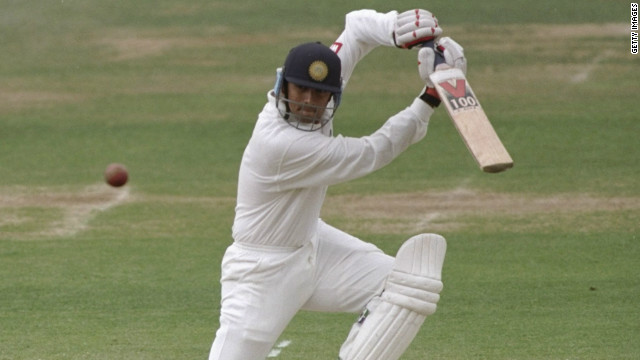 Rahul Dravid made his Test debut for India in 1996 against England at Lord's. He made a fantastic start, scoring an impressive 95.
Dravid smashed 145 in a 318-run partnership with Sourav Ganguly during a match with Sri Lanka at the 1999 World Cup, a record in the one-day form of the game.
Against Australia in Kolkata in 2001, Dravid destroyed one of the greatest bowlers to have played the game -- Shane Warne. Dravid came to the crease with India needing 45 runs to avoid an innings defeat. He eventually led them to a thrilling victory with a knock of 180, hitting Warne for 41 off 51 balls in the process.
Dravid hit four centuries in four consecutive Tests in 2002, recording three against England before grabbing another in India's first match of a series against the West Indies.
Dravid's first Test as India captain came against New Zealand in Mohali in 2003, standing in for Ganguly. He endured a frustrating match as the team's leader, with India eventually rescuing a draw.
Dravid became the first player to score centuries in every Test-playing nation with a ton against Bangladesh in December 2004.
India, led by Dravid, earned a 1-0 win in England in 2007's four-Test series. Dravid is pictured here with fellow cricket legend Sachin Tendulkar, who is currently stuck on 99 international centuries in his bid to become the first man to reach 100 hundreds.
Dravid endured an unsatisfactory 2008, but he did end the year on a high with a century against England in Mohali in December.
India were blown away by England in a 4-0 Test series defeat in 2011, a result which saw them usurped at the top of the world rankings by their opponents. But Dravid was in fine form despite the loss, scoring 461 runs in the series, including three centuries.
Dravid is contracted to play in the forthcoming Indian Premier League Twenty20 series, where he will represent the Rajsthan Royals. The franchise is partly owned by Bollywood star Shilpa Shetty.
Dravid's debut
World Cup warrior
Laying waste to Warne
An awesome foursome
Captain's log
World domination
A hard-earned victory
A year to forget
Defiant defeat
Eye on the IPL
STORY HIGHLIGHTS
Indian batsman Rahul Dravid retires from cricket after a glittering 16-year career
Dravid is the second-highest run scorer of all time in Test matches with 13,288
He has compiled 48 international centuries for India in Tests and one-day matches
India's revered batsman Sachin Tendulkar says: "There is only one Rahul Dravid"
(CNN) -- His nickname says it all. After scoring over 13,000 runs in Test cricket during a glittering 16-year career, Rahul Dravid is known simply as "The Wall."
But on Friday the 39-year-old announced he is retiring from the game to make way for a new generation of Indian players.
The only man who has scored more in Test matches than Dravid is India's most revered batsman of all time, Sachin Tendulkar, who has chalked up 15,470 runs.
Dravid's status in India is underlined by the poignant tribute delivered by his former teammate, who said: "There was and is only one Rahul Dravid."
Dravid's 36 hundreds have helped him compile 13,288 Test runs at an average of over 52 per innings, while his record of 210 catches in 164 games is unmatched.
"You know that when you leave playing for India and the life that I have lived for 16 years, and five years before that of first-class cricket, it is tough," Dravid said at a press conference in Bangalore.
Hits 95 on Test debut against England at Lord's in June 1996

Scores his first Test and one day centuries in 1997

Finishes 1999 World Cup as highest run scorer with 461

Becomes only Indian to score four Test centuries in a row in 2002

Bats for 120 consecutive innings without a duck between 1999 and 2004

Compiles highest Test score of 270 against Pakistan in April 2004

Has faced more deliveries in Test cricket than anyone else -- 31,258

Ends with 13,288 Test runs and 10,889 in one day matches
"It is all I have known all my grown life. From that point it was a difficult decision, but it wasn't a difficult decision for me because I just knew in my heart that the time was right and I was very happy and comfortable in what I had achieved and what I had done.
"You just know deep down that it is time to move on and let the next generation take over."
Tributes poured in for one of the most talented batsmen of his generation, who was also lauded for the way he conducted himself on and off the pitch. Dravid was the consummate professional.
Fittingly, one of the first to laud him was his great friend Tendulkar, the only man who can reasonably claim to have outshone Dravid.
"There was and is only one Rahul Dravid," he said in a statement. "There can be no other. I will miss Rahul in the dressing room and out in the middle. For someone with a record like his, no tribute can be enough."
It is for his consistency in Test matches that Dravid will be best remembered -- no one has faced more deliveries in Tests -- but he also enjoyed a long one-day international career, scoring 10,889 runs and 12 centuries.
He enjoyed mixed success during a two-year stint as captain but enjoyed a renaissance as a player during a tour of England in 2011, scoring 461 runs and making three centuries in a series that India lost 4-0.
Dravid also became the first non-Australian to perform the prestigious Bradman Oration on the state of the game in December 2011 -- named after the late Don Bradman, widely regarded as the best batsman of all time.
He struggled on India's recent tour to Australia but said that had no bearing on his decision to call time on an international career that began in Singapore with a match against Sri Lanka in April 1996.
"I don't think there was a eureka moment for me that said that this is the time I have to go. For each one it comes differently, for me it's come with a bit of contemplation, a bit of thought, with friends and family," Dravid said.
"It is difficult ... but you recognize that this moment has to come to everybody some day.
"While it will be difficult I have loved every moment of playing for India and for the Indian cricket team. In some ways it's been an easy decision, because I just know that the time is right."
Dravid's last act as a top-level cricketer will be playing for the Rajasthan Royals in the forthcoming 20-over Indian Premier League tournament.
But perhaps the final word should go to Australian fast bowler Brett Lee, who enjoyed many a fierce battle with Dravid in the middle.
"If you can't get along with Dravid, you're struggling in life," he told the Board of Control for Cricket in India's website.