Pacquiao: God told me to retire -- but not yet
updated 2:00 AM EDT, Wed March 21, 2012
STORY HIGHLIGHTS
Pacquiao says he had a dream in which God told him to retire
The boxer's business manager says he is unlikely to retire this year
Boxing fans have long sought a fight between Mayweather and Pacquiao
Pacquiao is the first boxer to have won world titles in eight weight divisions
(CNN) -- Like St. Augustine's prayer "God make me chaste - but not yet," Filipino fighter Manny Pacquiao's personal conversation with God may not lead to his retirement anytime soon.
Pacquiao said in a radio interview on Monday he had a dream in which God had told him to hang up his gloves, fueling speculation he may back out of a long-anticipated fight with American Floyd Mayweather.
"I will not stay long in boxing because He said: 'You have done enough. You have made yourself famous but this is harmful'," he told Manila's DZMM radio.
However, his team say retirement is still a long way off.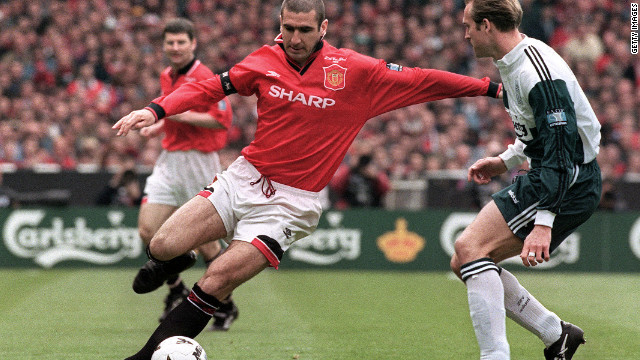 Manchester United's Eric Cantona controls the ball during the FA Cup final against Liverpool at Wembley in May 1996. Now he is entering the political arena to highlight the issue of bad housing.
Austrian bodybuilder and future Californian governor Arnold Schwarzenegger pretends to drink from his trophy while wearing its lid as a crown after winning the Mr. Universe contest in London, England, in September 1967.
One-time Minnesota governor, former professional wrestler and guest referee Jesse Ventura, center, watches the action during the World Wrestling Federation SummerSlam in 1999 in Minneapolis.
Kevin Johnson of the Phoenix Suns plays in an NBA game in 1989. In 2008 he became mayor of Sacramento, California.
Portland Trail Blazers' Chris Dudley, right, blocks New York Knicks' Patrick Ewing at Madison Square Garden in 1995. In 2010, Dudley was defeated as Republican candidate to be governor of Oregon.
Menzies Campbell, later to become leader of Britain's Liberal Democrat Party, wins the 220 yards final in a time of 21.1 seconds at the AAA Championships at White City, 11th July 1964.
Jeffrey Archer, pictured in Oxford 1966, represented England as a sprinter and hurdler. Three years later he became a Conservative Member of Parliament, and later a best-selling novelist.
Sebastian Coe holds up the Union Flag after winning the Olympic 1500m gold medal in the 1984 Los Angeles Olympics. The two-time gold medallist later became a Conservative lawmaker in Britain and is now in charge of organizing the 2012 London Olympic Games.
Pakistani cricketer Imran Khan bats during a one-day international against England in the mid-1980s. Imran is now campaigning to be his country's next prime minister.
George Weah of Liberia plays during the African Cup of Nations match against Gabon in Durban in 1996. He ran unsuccessfully for president in 2005 in his country.
Romario of Brazil plays against the USSR during the 1988 Seoul Olympics. He later ran for mayor in his home country.
Newly elected Russian lawmaker and former tennis star Marat Safin, center, gestures as he speaks in the Kremlin in December 2011.
Manny Pacquiao (right) retained his WBO world welterweight title against Juan Manuel Marquez in Las Vegas, Nevada in November 2011. In May 2010, he was elected as a Sarangani representative in the Filipino Congress.
Chistine Lagarde was a member of the French national synchronized swimming team as a teenager. Last year she became head of the International Monetary Fund after serving as French finance minister.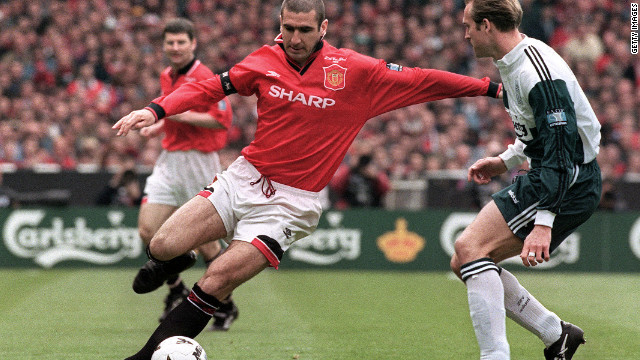 From sports pitch to political arena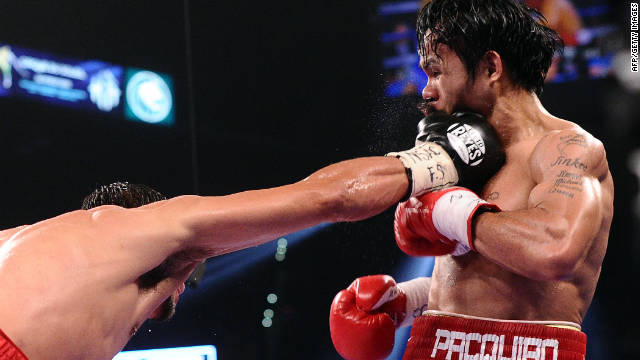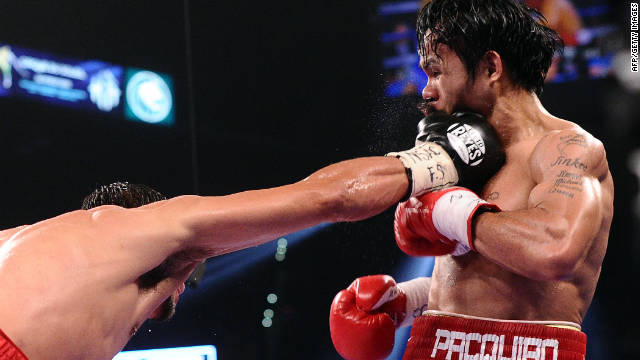 Los mejores golpes de la pelea Pacquiao vs. Márquez
"A few years ago the pressure for him to retire was coming from his mother," Pacquiao's business manager Eric Pineda told CNN. "But recently he dreamt that God told him to retire but there's nothing definite about his retirement either this year or next year.
"This year it's out of the question," Pineda said. "And I'm not even sure about next year either."
He said a Mayweather fight would be up to the Mayweather camp, but that Pacquiao was more than ready to meet him in the ring.
"Manny is a fighter and there is still the desire," Pineda said. "He really wants this thing with Mayweather to happen.
"He doesn't want to retire leaving unanswered questions."
Pacquiao, 33, has a 54-3 win-loss record with two draws and plans to pit his World Boxing Organization welterweight crown against undefeated American Timothy Bradley in Las Vegas on June 9.
Boxing fans have long sought a fight between Mayweather and Pacquiao. The pair were in negotiations for a fight to be held later this year but talks fell through. The 34-year-old American boxer has won all 42 of his professional fights, 26 by knockout.
Manny is a fighter and there is still the desire
eric pineda
"People are clamoring for this fight -- and it will probably be bigger than the Ali/Frazier fight. Manny still wants to prove to himself that he can beat Mayweather," Pineda added.
Pacquiao also has an ongoing defamation suit against Mayweather, claiming the American fighter has insinuated that his success is the result of performance-enhancing drugs.
Pacquiao is the first boxer in the sport's history to have won world titles in eight weight divisions and recently launched a successful political career after being elected to the Philippine House of Representatives in June 2010.
Formerly a heavy gambler and late-night party-goer, Philippines media reported in February that Pacquiao had renewed his commitment to his faith, shutting down a restaurant and bar he owned, selling shares in a casino and nightclub and selling his cockfighting gamecocks.