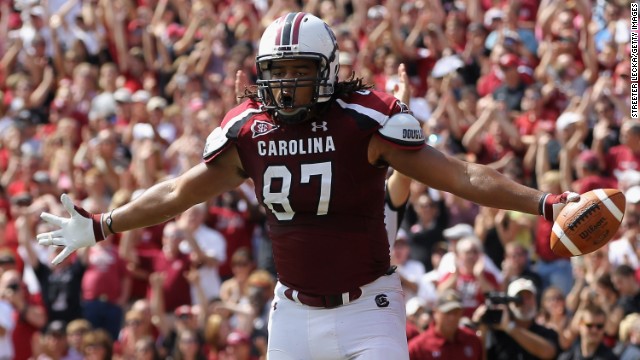 Justice Cunningham, a tight end from South Carolina, was the final pick of the 2013 NFL Draft, earning him the title of "Mr. Irrelevant." Click through the gallery for a look at other last picks from the past 12 years.
Quarterback Chandler Harnish was drafted by the Indianapolis Colts in 2012.
Linebacker Cheta Ozougwu was drafted last by the Houston Texans in 2011. He now plays for the Chicago Bears.
Wide receiver Tim Toone was drafted by the Detroit Lions in 2010. He now plays for the Atlanta Falcons.
Placekicker Ryan Succop was drafted by the Kansas City Chiefs in 2009. He finished his first season tying an NFL record for highest field goal percentage by a rookie.
The St. Louis Rams drafted linebacker David Vobora in 2008. He was the first "Mr. Irrelevant" to start in a game during his rookie season since 1994. He went on to play for the Seattle Seahawks.
Cornerback Ramzee Robinson was drafted by the Detroit Lions in 2007. He went on to play for the Denver Broncos.
In 2006, the Oakland Raiders drafted wide receiver Kevin McMahan. After brief stints with other teams, he was on the Carolina Panthers' practice squad until they released him in 2009.
The New England Patriots drafted tight end Andy Stokes in 2005. He was cut during training camp and was then briefly on the Arizona Cardinals' practice squad.
Linebacker Andre Sommersell was selected by the Oakland Raiders in the 2004 draft. He left the NFL the next year and is pictured in 2006 playing for the Edmonton Eskimos of the Canadian Football League, wearing No. 53.
Ryan Hoag, left, was picked last by the Oakland Raiders as a wide receiver in 2003. He's shown in 2004 at a viewing party for "The Bachelor" with Jesse Palmer. Hoag was a contestant on season four of the ABC reality show "The Bachelorette" in 2008.
Ahmad Miller, the defensive tackle dubbed "Mr. Irrelevant" in 2002, rides the Grizzly River Run at Disney's California Aventure after he was drafted by the Houston Texans. He was cut before the final preseason game.
Mr. Irrelevant: Last picks in NFL Draft
Mr. Irrelevant: Last picks in NFL Draft
Last picks in NFL Draft
Last picks in NFL Draft
Last picks in NFL Draft
Last picks in NFL Draft
Last picks in NFL Draft
Last picks in NFL Draft
Last picks in NFL Draft
Last picks in NFL draft
Last picks in NFL Draft
Last picks in NFL Draft
STORY HIGHLIGHTS
With those silly, first rounders out of way, teams can focus on all-important 253rd pick
Former NFL player Paul Salata kicked off Irrelevant Week in 1976 to honor underdogs
Mr. Irrelevant goes nuts in Newport Beach; there are parades, parties, even groupies
Past Mr. Irrelevants have driven Lamborghinis, visited Playboy Mansion to dine with Hef
(CNN) -- The nation waits with bated breath. Who, they wonder, will the Indianapolis Colts take on draft day? Will it be Penn State's Derek Moye? Maybe University of Nevada corner Isaiah Frey? Marquis Maze of Alabama and Syracuse's Nick Provo could get the nod, as well.
If you're confused, calling me an idiot or asking, "Didn't they already take Andrew Luck?" that's OK. Perhaps you don't understand what matters.
Mr. Irrelevant matters. That's what former NFL wide receiver Paul Salata has been trying to get across to people for the past 37 years. Since 1976, Salata has hosted Irrelevant Week as a charity event in honor of the last player taken in the NFL draft.
Salata, 85, considers himself an underdog in many ways and says he started the Mr. Irrelevant honor as a way to celebrate the game's unsung heroes -- the equipment managers, the assistant coaches, the practice squad guys hustling to make the cut.
"I thought it was a team thing, and sometimes the media only talk about the quarterbacks, the touchdown makers, the defensive geniuses and so forth," he said during a Thursday phone interview from New York where he's attending the draft.
Even as a former football player and Hollywood actor, Salata knows a fair amount about staying under the radar. He grew up poor, one of seven brothers in Southern California where he attended USC and lettered as an offensive end who usually came off the bench.
After college, the 6-foot-2, 190-pound Salata went to play for the San Francisco 49ers before joining the Baltimore Colts, where he played wide receiver and was an occasional target for would-be Hall of Famer Y.A. Tittle in 1950. When the Colts folded, the Pittsburgh Steelers drafted Salata in the 10th round, but he opted to head north and play in the Canadian Football League, where he was an all-star his first year and retired the next.
He finished his NFL career with 50 catches for 618 yards and four touchdowns. If that doesn't speak to his gridiron relevance, you can pick up one of Salata's 1950 football cards for 17 bucks. Tittle's from that year will cost you about $150.
As an actor, Salata appeared in 16 movies, including classics such as "The Ten Commandments" and "Singin' in the Rain," yet according to IMDB, 11 of his performances were uncredited.
Getting an idea why he appreciates the underdog yet? He is scheduled to demonstrate that appreciation Saturday, when he announces the last pick of the draft, as he has for almost 20 years.
Mr. Irrelevant's playground
Whoever is picked will be treated to the time of his life in Newport Beach, California, this summer. Salata's daughter, Melanie Fitch, 57, who became Irrelevant Week CEO in 1986, said the celebration is designed to be over the top. Just ask 1997 winner Ronnie McAda, the West Point cadet who arrived at Irrelevant Week on a mobile Army missile launcher.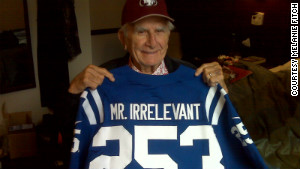 Paul Salata holds up this year's Mr. Irrelevant jersey in a New York hotel room.
The winner is permitted to bring one friend or family member along for the festivities, Fitch said. The limit was put in place after 2001 Irrelevant Week organizers instituted the "Ofahengaue Rule." It takes its name from Brigham Young University tight end Tevita Ofahengaue, who arrived with 62 family members from his native Tonga. The consummate good sport, Salata put them up at the Marriott.
Mr. Irrelevant and his guest will spend the week holding news conferences and being showered in gifts, including a gold watch from Commissioner Roger Goodell. A local bank also issues a check for one day's interest on $1 million so Mr. Irrelevant can feel like a millionaire for a day (probably a cuter gag before interest rates plummeted).
"He also gets a jersey from every team, so if he doesn't make that team he'll be ready to play for whoever," Fitch said.
There are beach parties, barbecues, cheerleaders, live music, a parade, perhaps a golf tournament and regatta. Groupies are hired to follow him around. He'll go to Disneyland, a la the very relevant Super Bowl MVP. There, he might toss a pass to Goofy or tackle Mickey, depending on which position he plays, Fitch said.
This year's winner will also get to drag the infield during an Anaheim Angels' baseball game.
"He drags the field rather than throws out the first pitch because that would make him relevant," Fitch said, invoking her father's trademark brand of humor.
At a banquet held in the player's honor, the lucky 253rd pick will be presented with the Lowsman Trophy. Think Heisman, except with the statue bearing an oh-crap face as he fumbles the ball. Fitch mocks the comparison.
"It's more selective to get a Lowsman. (This year's winner) is the 37th guy to get one, and there's tons of Heisman winners," she said.
Actually, there are 76. Football players being a heavy lot -- even the running backs and quarterbacks who typically snare college football's top honor -- we'll set the rough (read, completely unscientific) average at 220 pounds. Multiply that by 76, and you get 16,720 pounds.
So Fitch is right. There are eight tons of Heisman winners.
A magic lamp
The player dictates some of the week's activities, Fitch said. She's had a few winners who wanted to learn how to surf. Others wanted to ride a jet ski. One loved sports cars, so Fitch rented a Lamborghini for him to tool around Newport Beach for the week.
"It's whatever they make up, and I make it happen," she said.
Sometimes the player wants to meet celebrities. Meetings with actors Halle Berry and Will Ferrell have been requested in the past, Fitch said, noting that Mr. Irrelevants "usually want to meet someone who is shapely or funny."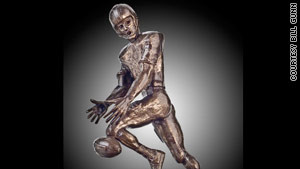 The Lowsman Trophy presented to Mr. Irrelevant is modeled after the Heisman.
Ramzee Robinson, the 2007 honoree, wanted to go clubbing in Los Angeles, so Fitch said she arranged for him to hit the town with Paris Hilton. The following year, David Vobora wanted to meet the stars of "The Girls Next Door," so Fitch got the Idaho linebacker into the Playboy Mansion to party with Miss June and dine with Hugh Hefner.
She chuckled thinking about a meeting with the interns before Vobora's arrival.
"The hands go up and one tells me, 'I'll drive him to the Playboy Mansion!' " she said. "What a sacrifice."
Salata's favorite story from Irrelevant Week came in 1983, he said. The recipient was John Tuggle, who had played on the 1982 California Bears team responsible for what is known in football circles as "The Play."
The Bears were playing their rivals, the Stanford Cardinal, who took a 20-19 lead with four seconds left. On the ensuing kickoff, the Bears executed a series of five laterals to elude the Stanford defenders, but the overly optimistic Cardinal band had already marched onto the field.
The Bears' Kevin Moen caught the final lateral, charged through the wayward musicians and spiked the ball on trombone player Gary Tyrrell in what became one of the zaniest and most controversial plays in football history.
"Dad says, 'I want to find the trombone player,' " Fitch recalled.
Salata told Tyrrell he wanted him at Irrelevant Week so he could "be a guest and play the fight song on command."
A few weeks later, Tyrrell and the Irrelevant Week crew were on the tarmac when Tuggle's plane arrived. As Tuggle disembarked, Salata cued Tyrrell to belt out the fight song, the trombonist played some awkward notes that sounded more like a broken foghorn. Tyrrell did it again at a press conference for Tuggle.
"It was something we'd never heard. It didn't sound like the fight song," Salata said. He took Tyrrell aside and scolded him: "I'm going to get mad at you because we made a deal. It's costing us money."
Tyrrell responded sheepishly, "Mr. Salata, I am playing the Stanford fight song. I'm third chair. That's my part."
One small hitch
It hasn't always been rollicking frolicking, Fitch said, explaining the New England Patriots' handling of the 2005 honor left a bad taste in her mouth. The Pats took Andy Stokes with the 255th pick of the draft that year, but coach Bill Belichik initially refused to let the tight end attend Irrelevant Week.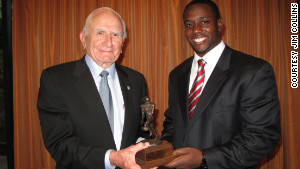 Salata presents the Houston Texans' Cheta Ozougwu with the 2011 honor last year.
"Belichik likes to make his own rules and do his own deal," she said. "I'm sure I'm not the first person to be amazed by Bill Belichik."
She's also not one to be deterred by a renegade coach that doesn't realize good fun when he sees it, so she called the NFL front office, which instructed the Pats to let Stokes attend. The Pats complied but demanded that Fitch cut the week short so Stokes could return for a Wednesday 7:30 a.m. practice.
Some of Fitch's media contacts told her the Patriots didn't have practice that day, but she didn't want to push the issue. She rescheduled the week's events, set the Lowsman presentation for Tuesday night and arranged for a special airport security clearance and private jet, as well as police escorts to take him to the airport and practice.
When Stokes arrived at practice, the facility was locked and trash was blowing on the field, Fitch said.
"Belichik blew off Irrelevant Week," she said. "They just don't realize how irrelevant this is ... I mean, how important this is."
Fitch said there are no hard feelings, but "I hope the Patriots do well and never have the last pick because I'll probably go to the next-to-last guy."
That might be a disappointment to the NFL because the league embraces Irrelevant Week, as evidenced by Salata announcing the final pick at draft day, which the league began allowing in the early 1990s.
In a statement, spokesman Michael Signora explained the league's fondness for Salata's madcap merriment: "To be selected in the NFL Draft is a tremendous accomplishment, whether you are the first player chosen or the final person picked. Paul has found a unique way to celebrate that fact with the naming of 'Mr. Irrelevant' and the Irrelevant Week celebration.
"We have always heard great things from the players about their experience in Newport Beach and we look forward to following the career of this year's 'Mr. Irrelevant' as he gets to his new club."
Putting the sense in nonsense
Salata said he loves the idea of making the last pick feel as important as the first. Irrelevant Week's motto is, "Doing something nice for someone for no reason."
He also loves that the celebration allows him to take part in one of his favorite pastimes, giving to charities. When he first hatched the idea for Irrelevant Week, most of the money came from his own pockets, but now he receives donations from the Newport Beach community. There are also sponsorships, and hundreds pay small sums to attend the events.
In 37 years, Irrelevant Week has given more than $1 million to charity, and Salata likes to see his money in action. Rather than simply sending checks to charitable foundations, he'd rather do something more tangible, like buy prostheses for Disabled Sports USA.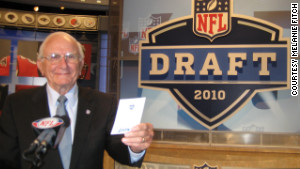 Salata announces the 2010 Mr. Irrelevant, Tim Toone, at Radio City Music Hall.
This year's primary beneficiary is Salata's local Goodwill Fitness Center in Orange County. He plans to use the 2012 proceeds to buy fitness machines for people with spinal cord injuries and other challenges.
But despite all the fun and good karma, a few startling events in recent years threaten the very soul of Salata's brainchild. For decades, the overwhelming majority of Mr. Irrelevants have been released by NFL teams or sent to ply their trade in Canada or Europe (Pro Bowl quarterback Bill Kenney being the glaring exception), but the last five winners have seen a modicum of success.
Ramzee Robinson (2007) is a Denver Bronco; David Vobora (2008) is a free agent, but local media are clamoring for the Seahawks to re-sign him; Ryan Succop (2009) tied the rookie record for field goal percentage and signed a $14 million contract extension with the Kansas City Chiefs last year; Tim Toone (2010) joined fellow honoree Robinson in Denver this year; and Cheta Ozougwu (2011) remains on the roster for the Houston Texans.
Say it ain't so. Could it be that the NFL's final draft picks are becoming (gulp) relevant?
Salata scoffs, pointing out that when he kicked off Irrelevant Week in 1976, there were 17 rounds in the draft. Now, there are seven, and the NFL has added seven expansion teams in that time.
"It's simple arithmetic. There's more teams and less picks," he said.
Asked if he might have to change the name of his award ceremony if the honorees continue to make rosters and sign multimillion-dollar contract extensions, he says the idea has been entertained, but you get the feeling it was only in jest.
"That's already been discussed," he said. "When Ryan at Kansas City comes up with $14 million, it certainly makes him relevant."