STORY HIGHLIGHTS
Ed Morrissey: New York mayor's proposal to ban soda size servings is wrong
He says it makes no sense: What's to stop people from drinking too much soda?
He calls Mayor Michael Bloomberg's proposal a nanny-state rule
Morrissey: New rule would dictate mayor's choices and eliminate everyone else's
Editor's note: Edward Morrissey is a senior editor and correspondent for the conservative commentary website hotair.com
(CNN) -- America's image of New Yorkers combines swagger, style and an unwillingness to get pushed around. Humphrey Bogart once warned a Nazi commander in "Casablanca" that "there are certain sections of New York, Major, that I wouldn't advise you to try to invade." Seventy years ago, movie audiences would have laughed in appreciation of the city's toughness.
Today, however, Rick Blaine would hardly recognize the place. Mayor Michael Bloomberg hit the panic button over soft drinks this week, proposing a citywide ban on any serving of sugary-sweet soda more than 16 ounces in restaurants, movie theaters and street carts. Bloomberg claims that he needs to have the cops throw themselves between consumers and liquid refreshment to save citizens from themselves and prevent obesity. Big Gulp, meet Big Brother.
Overheard on CNN.com: Doughnut lovers' lament, washed down with a giant soda
This is just the latest intervention staged by Hizzoner. His past decrees banned smoking, not just indoors in places of business, but also outside of businesses and in parks. Bloomberg also banned restaurants from cooking with artificial trans fats. In those cases, he took a lot of criticism as being a health hysteric and a food nanny, but at least an argument existed that consumer choice might have been irrelevant. Restaurants don't usually advertise all of their ingredients on the menu, for instance, and few people get asked permission before someone lights a cigarette in the doorway of an establishment.
Soft drinks: Public enemy No. 1 in obesity fight?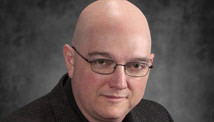 Edward Morrissey
In this case, though, no such argument exists. People purchase the volume of beverage they desire, and in almost every case, plenty of choice exists for smaller quantities. The outcome of barring the sale of anything larger than 16 ounces of Coca-Cola or Pepsi at the ballpark will be that more containers will get thrown out as people just buy more units, and that waste will have to be disposed of later. Consumers will pay more and have more inconvenience in purchasing what they want to drink, and will still end up drinking the same amount anyway.
Is drinking soda really that bad for you?
The new restrictions make little sense for most other venues. Fast-food restaurants have customer-accessible fountains in most cases for in-store dining. Few people buy the large size, and many of these restaurants no longer bother with size at all for those sales, sticking with one standard size. Will Bloomberg start regulating how many refills each customer gets, too? For that matter, many traditional restaurants offer free refills on soft drinks, too. If Bloomberg caps those, what happens when customers just buy another soft-drink order? Will the restaurant be forced to stop serving root beer far more quickly than they stop serving beer?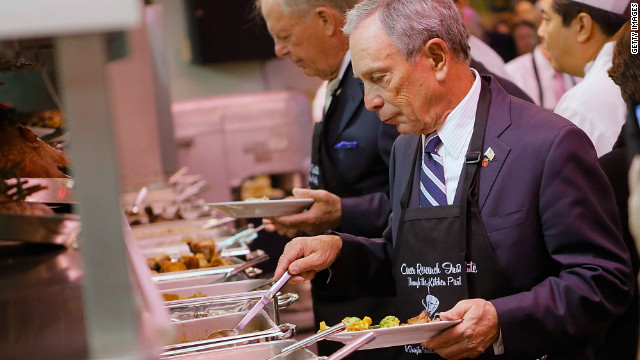 Michael Bloomberg has been mayor of New York since 2002. While he has implemented changes in all areas of life for New Yorkers, his policies concerning health have caused the most controversy. Here are some of his most memorable health proposals, not all of which were enacted:
Bloomberg had a new target during his final State of the City speech on February 14: plastic foam containers. His proposed ban would target certain polystyrene foam products, not necessarily Styrofoam, a trademarked product of Dow Chemical Co., used in foam insulation and construction products.
New York City's Board of Health voted to ban the sale of sugary drinks in containers larger than 16 ounces in restaurants and other venues, in a move meant to combat obesity and encourage healthier lifestyles. State Supreme Court Justice Milton Tingling has since blocked the city's restrictions, although Bloomberg is appealing.
Before the big sugary drink ban proposal, Bloomberg in 2010 urged the U.S. Department of Agriculture to exclude soda, sports drinks and other sugary drinks from food stamp eligibility, citing their effects on obesity. The mayor wanted the food stamp-eligible products to provide nourishment for better health. The department declined, saying the restrictions on retailers were too difficult.
Beginning May 23, 2011, New Yorkers were no longer allowed to go outside and light up in public places. Bloomberg proposed the plan in September 2010 to ban outdoor smoking in parks, beaches, marinas, boardwalks and pedestrian plazas, because of secondhand smoke's harmful effects. Now, it is illegal to smoke in any of the city's 1,700 parks and open spaces. The punishment is a $50 fine.
New York's comprehensive health policy, announced in 2004, included Bloomberg's goal to help decrease underage binge drinking and illegal alcohol sales through public service ads. After launching a campaign in 2010 to emphasize the hazards of excessive drinking, Bloomberg plans to continue limiting alcohol advertising near schools and to work with the police and the New York State Liquor Authority to enforce laws prohibiting alcohol sales to youths.
Bloomberg announced in December that obesity rates among New York public elementary and middle school students decreased over the past five years. He also promoted the Salads in Schools initiative, which provided low-height salad bars to elementary schools across the city's five boroughs.
In October 2007, Bloomberg introduced an initiative for chain restaurants to display calorie information on menus and menu boards. McDonald's, Burger King and Starbucks previously listed these counts on their websites or posters, but Bloomberg wanted the information to be in plain sight. Counts began appearing on menus, such as this one from Chipotle, in 2008.
Salt may liven up meals, but an excess of salt can also lead to some health problems. In January 2010, Bloomberg unveiled a plan to cut the amount of salt in packaged and restaurant food by 25% over a five-year period.
In 2006, the New York City Board of Health approved Bloomberg's plan to ban trans fat in cooking oils within the city's 24,000 food establishments. The plan gave restaurants 18 months to make the change.
A week after a judge blocked his bid to ban large sugary drinks in March 2013, Bloomberg unveiled a Tobacco Product Display Restriction bill which would force city retailers to keep tobacco products out of sight. If it passes, New York would become the nation's first city to enact such a law, Bloomberg said.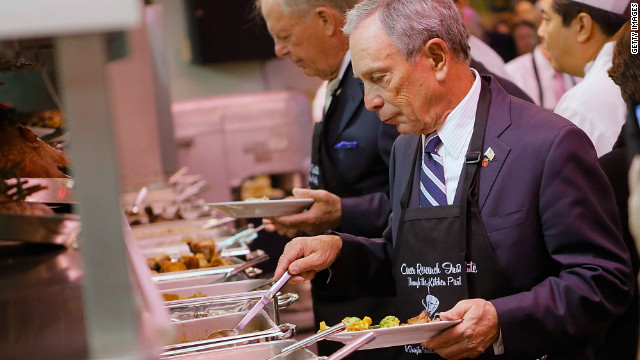 Bloomberg's bans: Salt, sodas, smoking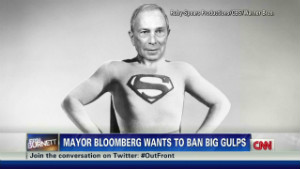 The war on big soda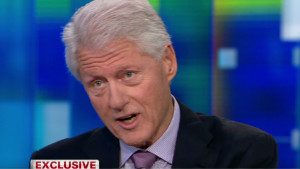 Clinton: Soda ban 'right thing'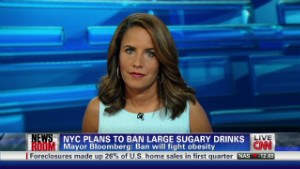 New York plans ban on large sodas
A soda per day may raise heart-attack risk
Nor do the drink categories make sense, either. Bloomberg's order won't apply to alcoholic beverages, even though many of those are loaded with calories, especially beers and ales, or to dairy-based drinks. As Reason's Jacob Sullum points out, that means that while New Yorkers will no longer be able to ingest 240 calories drinking a 20-ounce Coke, they will still have no trouble buying a 24-ounce, 520-calorie double-chocolatey frappucino at Starbucks, or a 20-ounce, 800-calorie milkshake.
Now, some of those choices may be better than others, although it's hard to argue that the dietary value of milk justifies ingesting an 800-calorie drink as opposed to the 240-calorie cola. But more to the point, that's a decision that free people should be able to make on their own. New Yorkers shouldn't have to ask Bloomberg, "Mayor, may I?" when selecting an otherwise-legal and nonlethal beverage.
Eatocracy: How I kicked my Coke habit
Bloomberg justifies his nanny-state interventions by pointing to the social costs of obesity, but there is no direct causal link between obesity and 20-ounce sodas with sugar in them, and neither would it be anyone's business at all except for the increasing government control and subsidies for health care. Bloomberg's insistence on dictating consumer choices has a more direct connection to an assumption that government should control our access to health care than obesity has to a couple of Big Gulps.
Perhaps it's time for New Yorkers to put their mayor on a power diet, and to wise up about the real trade-offs between expanding safety-net programs and personal choice. Soft drinks won't be the last of the usual suspects that Mayor May I will round up in his crusade to dictate his choices and eliminate everyone else's.
Follow us on Twitter @CNNOpinion.
Join us on Facebook/CNNOpinion.
The opinions expressed in this commentary are solely those of Ed Morrissey.